Filipino boxing fans are quick to call Mayweather a chicken, but he
isn't the sole reason for the delay of the bout with Manny Pacquiao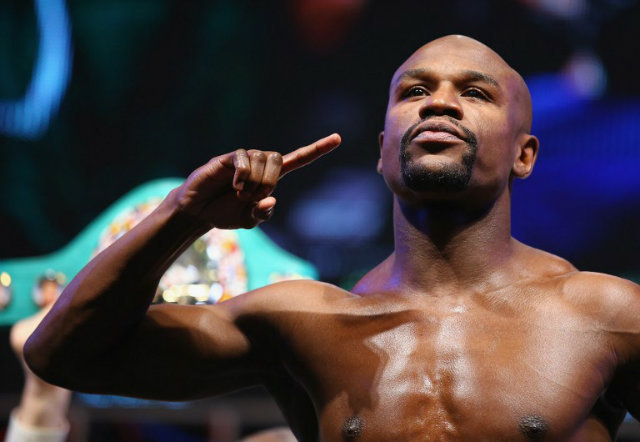 Floyd
Mayweather is the target of many insults from Filipino fans who feel he
is the one to blame for the fight with Manny Pacquiao not happening
yet. Photo by Al Bello/Getty Images/AFP
MANILA, Philippines - Search Floyd Mayweather Jr.'s name on Twitter and the results you'll find won't be pleasant.
Ask almost anyone in the Philippines without substantial information
on boxing what they think about him and they'll reply by calling him a
coward.
And if that's not enough, you won't have a hard time finding a person
or two willing to come up with degrading nicknames for the undefeated
fighter: "Chicken," "Scaredy Cat," or, the worst of all, "Gayweather."
I've seen countless people, most notably in the Philippines, ridicule
the 37-year-old future Hall of Famer for being the reason why his fight
of the decade with Manny Pacquiao has yet to happen. Fans are fans;
objectivity isn't exactly their top-priority.
But when supposed
journalists
turn a blind eye to what's
really happening and strongly come to a conclusion that Mayweather is
dismantling the negotiations for a fight already six years in the
making, then something has to be said.
Is Mayweather and his camp without blame for the fight yet to take
place? Absolutely not, and you won't ever hear me say such. But to hold
only them
accountable isn't right.
For a fight between two boxers to come to fruition, the camps of both
sides need to agree on multiple aspects: TV rights, the split of the
purse, when and where it takes place, and much more. Doing so becomes
even more difficult when you're organizing a legendary bout between the
two best and most egoistic fighters of their generation.
Boxing is dirty. Sure, we love the actual duels in the ring because
watching two boxers fight for a chance at a better life can be as
addictive as a drug. But what goes on behind the scenes - from actual
drugs, to match fixing, to faulty promoting - is as dirty as it can get.
Bob Arum, the CEO of Top Rank, has done a good job of promoting
Pacquiao for years. But more than a boxing promoter, he is a
businessman. What's the main objective of a businessman? To make as much
profit as possible.
There have been murmurs that Arum remains the most stubborn roadblock
to finally finalizing Pacquiao vs. Mayweather, with the noisiest of
chippers being someone who served in Pacman's own camp.
"Bob Arum has been the roadblock, he has deceived the people, he has
lied to the people from the beginning," says Alex Ariza, Pacquiao's
former conditioning coach. "It is deceitful, it is dishonest and it is
sad because Bob Arum has made millions out of the pockets of fans and so
to blatantly lie to them I think it's disgusting."
Ariza was fired from Pacman's corner before he took down Brandon
Rios, so some will dismiss his claims as a shamed ex-employee blabbering
gibberish. But take a look at Arum's controversial track record and you
can't say Ariza's claims are without merit.
Arum, 83, has been involved in bribery cases a couple of times, with
Don King calling him a "rat fink" in 2000 for admitting during a federal
trial that he bribed the International Boxing Federation to get a
better rating for one of his fighters.
Five years before that, the Nevada State Athletic Commission
penalized him $125,000 as consequence for using a bribe to get one of
his fights sanctioned.
In 2007, Mayweather finished his 10-year relationship with Arum as
the latter reportedly underpaid and under-promoted the boxer while
taking advantage of his talents for financial gains.
Arum has also feuded with UFC President Dana White, calling his
organization's fighters "skinhead white guys" and saying that MMA
fighters are "guys rolling around like homosexuals on the ground."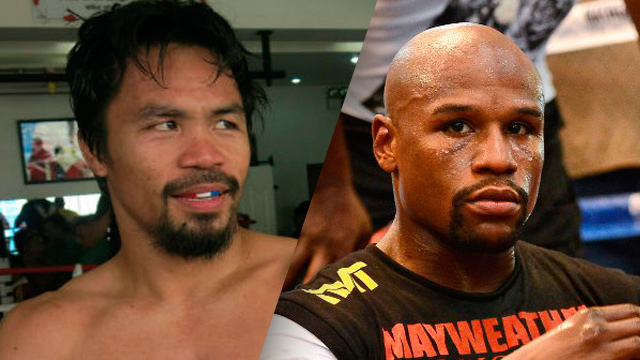 The
fight between Pacquiao and Mayweather has been highly anticipated for
the past six years. Photo by Ethan Miller/Getty Images/AFP
Arum has done an impressive job running Top Rank, but his faulty
past, lack of progress, and the accusations of someone who worked close
with him and Pacquiao over the years justifiably gives reason to doubt
him when he says he would do everything in his power to complete
negotiations for Pacquiao vs. Mayweather.
Heck, it doesn't even seem like Arum and his most prized fighter are on the same page. As told
in this informative piece
,
Pacquiao has already stated that he's signed to an agreement and is
only awaiting Mayweather to do the same. Arum, on the other hand, said a
deal is still being cemented.
As I've mentioned, Mayweather isn't without blame. He's also fooled
the public, particularly when he said a reported round of discussions in
2010 didn't take place when it in fact did, and he confirmed as much
via then-HBO president Ross Greenburg later on.
But many in the Philippines gravitate to Pacquiao's side of this
negotiation warfare without context. "Pacquiao wants the fight, but
Mayweather is too scared!" I've heard people in bars scream to one
another over and over again over a bucket of San Mig Light. "
Wala naman yung Mayweather na 'yon eh, puro yabang
!" drivers tell one another while waiting for their bosses.
(Mayweather's just scared anyway and he's just arrogant!)
There's nothing wrong with taking Pacquiao's side here and this isn't
an article to defend Mayweather, because God knows he's been as
stubborn as can be in the negotiation process. But to omit the fact that
Pacman's camp hasn't had their own faults to why this fight hasn't
happened yet while putting all the blame on Mayweather is unfair.
Why does such happen? Because common, non-die hard boxing fans in the Philippines would just rather choose their
kababayan
(fellow
countryman) over a foreigner who spends most of his time on social
media posting images of the countries he visits or the women he parties
with?
It's also because Pacquiao is absolutely loved in this country.
Basketball will always remain the king sport for Pinoys, or at the least
for the next few decades. But no athlete has ever won the adoration of
Filipinos more than Pacman. Going further, I don't think any country has
ever admired an athlete of its own more than the Philippines does
Pacquiao.
Think about it: Pacquiao is free to do almost anything he wants on Philippine soil.
He could decide to become a professional basketball player and coach
in the oldest league in Asia in the snap of a finger despite having no
collegiate or any kind of amateur playing experience.
He can record a music album even though there are thousands of other musicians who have voices a world's better than he does.
He could run for office and attain a government seat without any educational background on politics.
A number of people in this country are quick to feel bitter when
they're insulted by foreigners or called demeaning names. But does
referring to Mayweather as "Gayweather" make them any better? It's not
only an incredible insult to the gay community, but also reeks of
hypocrisy.
Initial reports have indicated that a lot of prior stumbling points
for the fight have been settled, such as the 60-40 split, venue and date
of the fight, and random performance-enhancing drug testing. It's not
close to confirmation, but it's better than what was there a few months
ago.
But until the time comes when the fight will finally take place -
if
it finally takes place - understand that both sides are to blame for the lack of progress so far.
-
Rappler.com