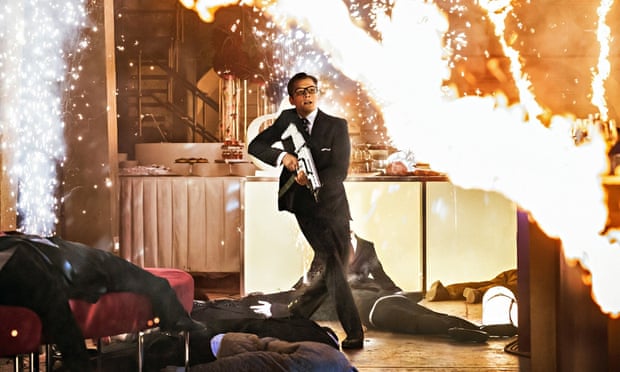 aving done such sterling work on their jaw-dropping screen adaptation of
Mark Millar
's
Kick-Ass
comic strip, director Matthew Vaughn and screenwriter Jane Goldman
enjoy more Millar-time with this typically boisterous hoodie-Bond
fantasia. With nods to
John Steed
(the umbrella) and
Harry Palmer
(the glasses), this finds Taron Egerton's "Eggsy" recruited by an elite
super-spy unit of gentlemanly spooks who attempt to transform him from
effing estate kid to Old Etonian killer in
My Fair Lady
fashion. Meanwhile, Samuel L Jackson's lisping Dr Evil prepares for
global domination via the distribution of mobile phones through which he
intends to zombify an all-too-eager population.
Independently funded, like
Kick-Ass
, and thus sidestepping studio squeamishness,
Kingsman
boasts an already infamous church-house meltdown in which
Colin Firth
goes mano a mano with an entire congregation. Elsewhere, comically
bisected bodies and ruthless shoot-the-dog displays are the order of the
day, as Egerton transforms from layabout to slayabout. For the most
part it's brash, boisterous fare, cocking unsubtle snooks at its generic
predecessors, not least in a poster image that subverts the leggy
chauvinism of
For Your Eyes Only
with a killer close-up of
razor-sharp running blades. A shame, then, that the film should succumb
to leering laddish humour, closing on an unforgivable bum note.
| The Guardian