MANILA, Philippines – A trip to Malacañang, a Mass at the Manila Cathedral, and a rockstar welcome at the Mall of Asia Arena to meet families – this, in summary, was the first full day of Pope Francis in the Philippines on Friday, January 16.
Here are the highlights of his second day in Manila.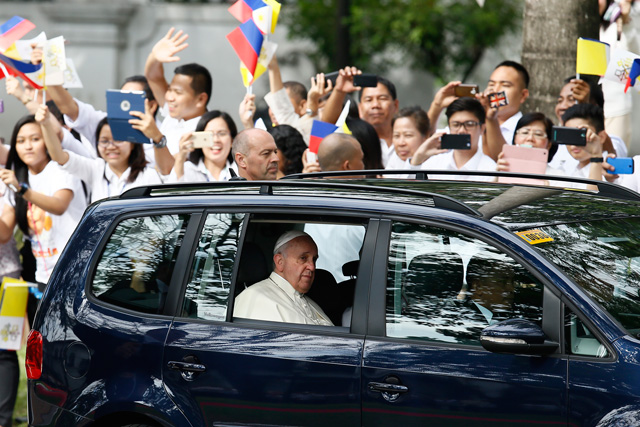 Pope Francis aboard a covered vehicle prior to his meeting with President Benigno Aquino III at the Malacanang Palace in Manila on January 16, 2015. Photot by Dennis Sabangan/EPA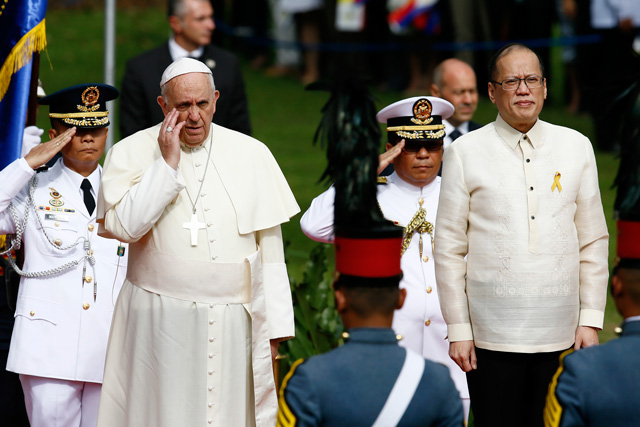 Pope Francis gestures as he stands next to President Benigno Aquino III during arrival honors at Malacanang Palace, Manila on January 16, 2015. Photo by Dennis Sabangan/EPA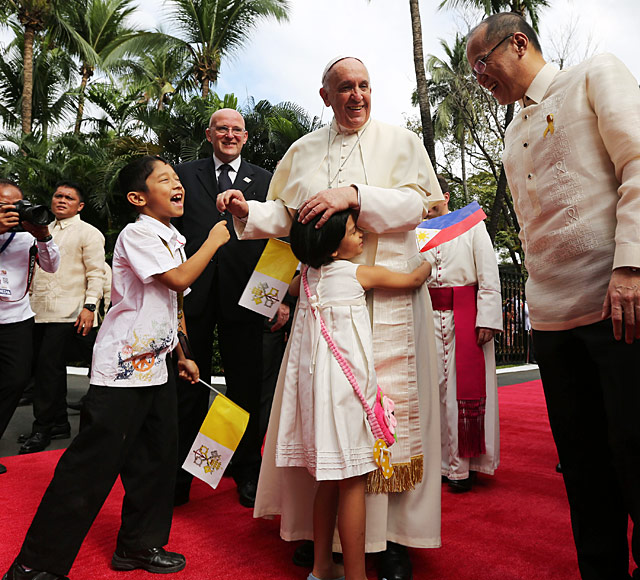 Pope Francis accompanied by President Benigno S. Aquino hugs children during a ceremony at the Malacanang Palace. Photo by Robert Vinas/ Malacanang Photo Bureau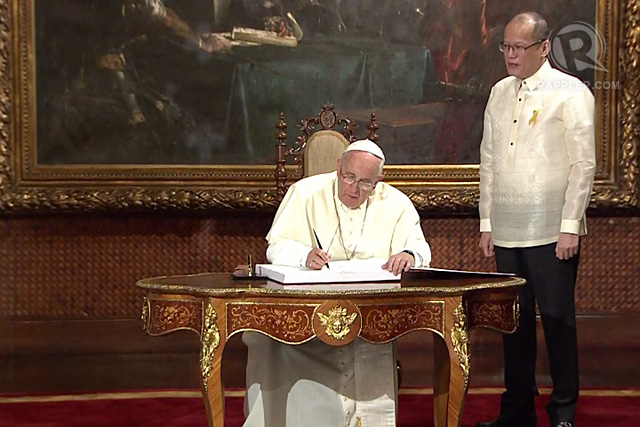 Pope Francis signs the official Guest Book at the Malacañang Palace, as Philippine President Benigno Aquino III looks on, January 16, 2015. Rappler photo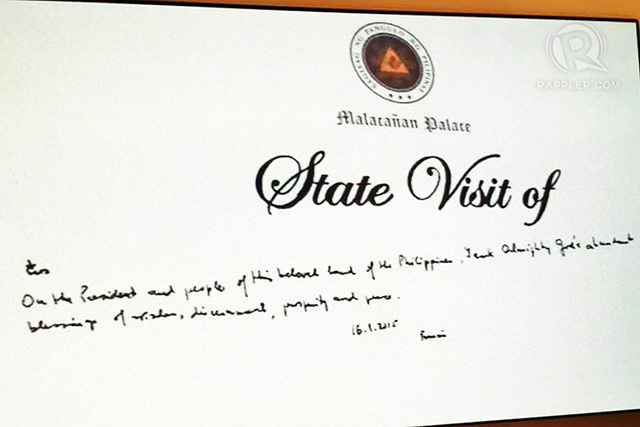 Pope Francis' message written on the Malacañang guest book.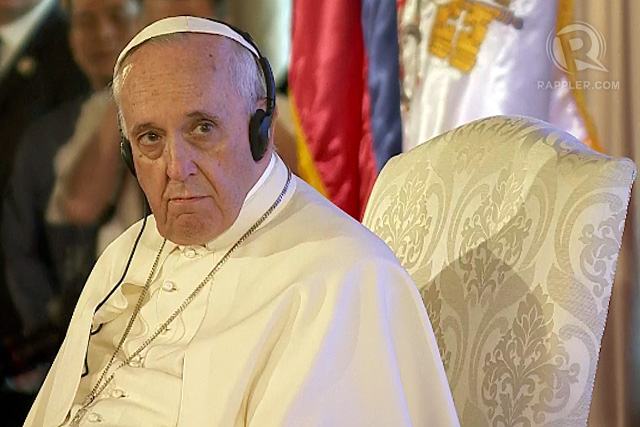 Pope Francis listens to President Benigno Aquino III (not in photo) during the meeting with officials and diplomats in Malacañang, January 16, 2015. Rappler photo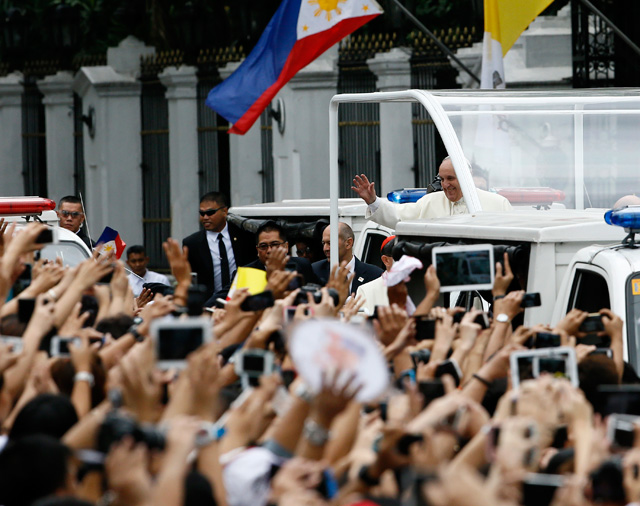 Pope Francis on a popemobile waves to well wishers at a street following his meeting at the Malacanang Palace in Manila on January 16. 2015. Photo by Dennis Sabangan/EPA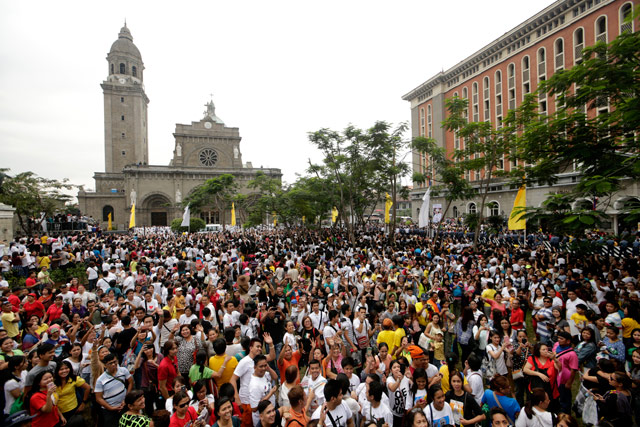 Filipinos gather outside the Manila Cathedral after a mass lead by Pope Francis on January 16, 2015. Photo by Ritchie Tongo/EPA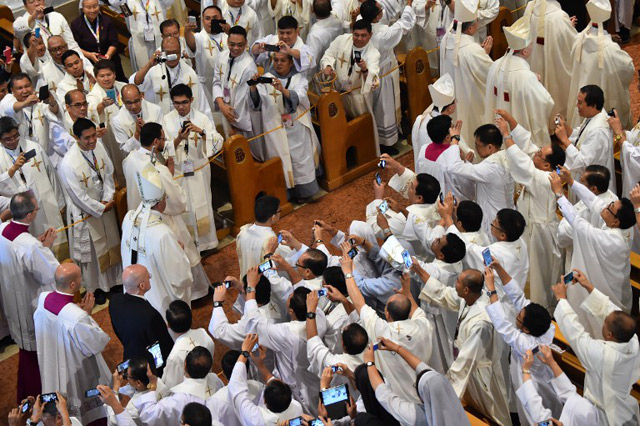 Priests take a photograph of Pope Francis as he arrives to lead a mass for local Catholic leaders at the Manila Cathedral on January 16, 2015. Photo by Giuseppe Cacace/AFP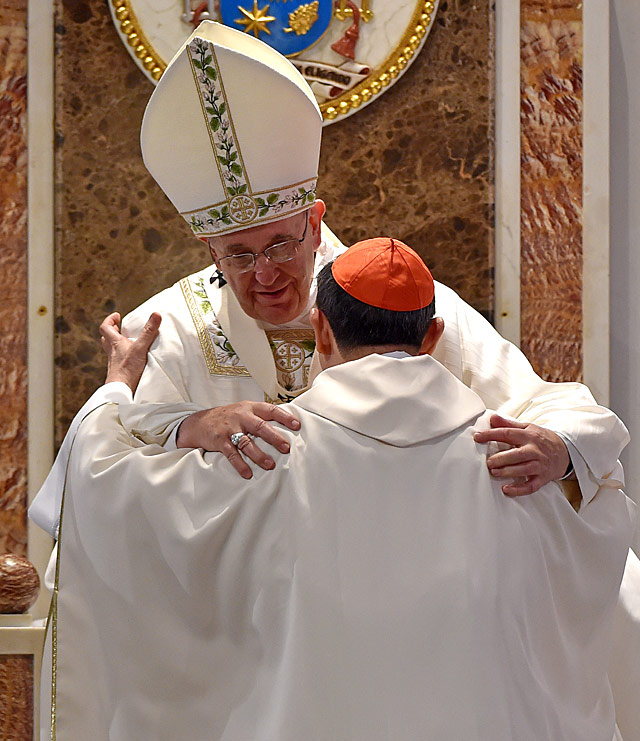 Pope Francis embraces Philippine Cardinal Luis Antonio Tagle as he leads a mass with bishops, priests and nuns in the Cathedral of the Immaculate Conception (Manila Cathedral) on January 16, 2015. Photo by Ettore Ferrari/EPA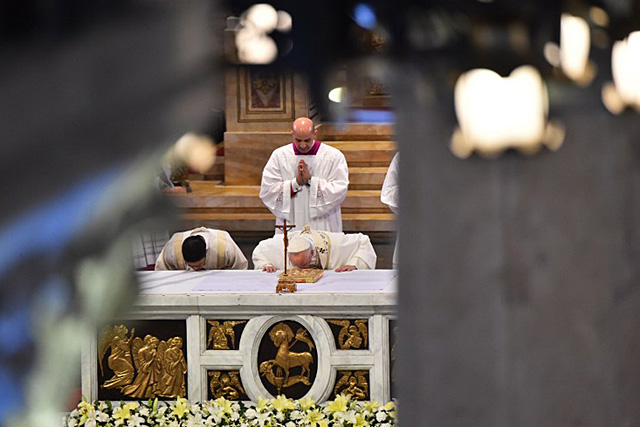 Pope Francis lead a mass for local Catholic leaders at Manila Cathedral on January 16, 2015. Photo by Giuseppe Cacace/AFP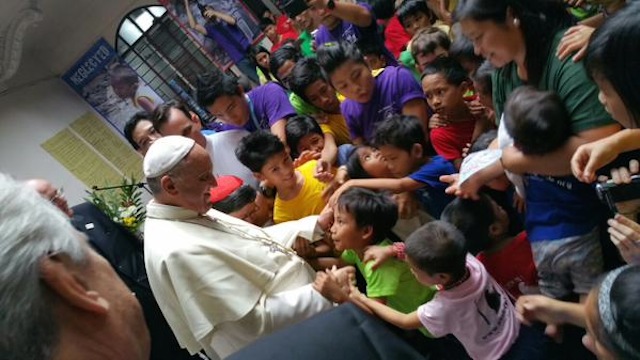 MEETING THE KIDS. Pope Francis meets with street children under the care of Tulay ng Kabataan after the Mass at the Manila Cathedral, January 16, 2015. Image courtesy Fr Antonio Spadaro/Twitter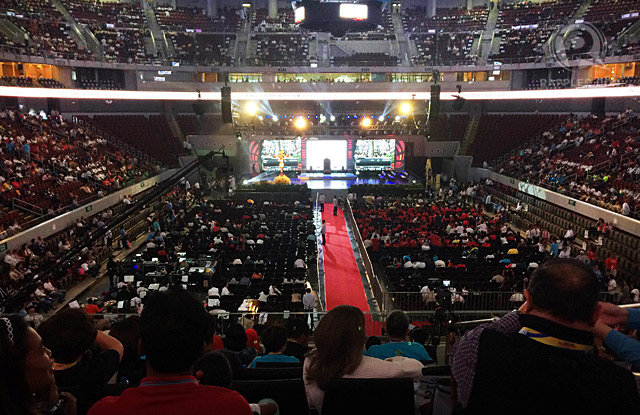 The view of the Mall of Asia Arena before the start of Pope Francis' meeting with families, January 16, 2015. Rappler photo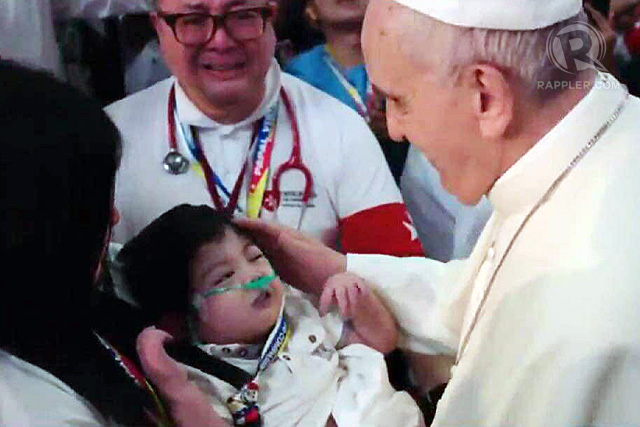 Pope Francis touches a sick child as he enters the Mall of Asia Arena for the meeting with families, January 16, 2015. Rappler photo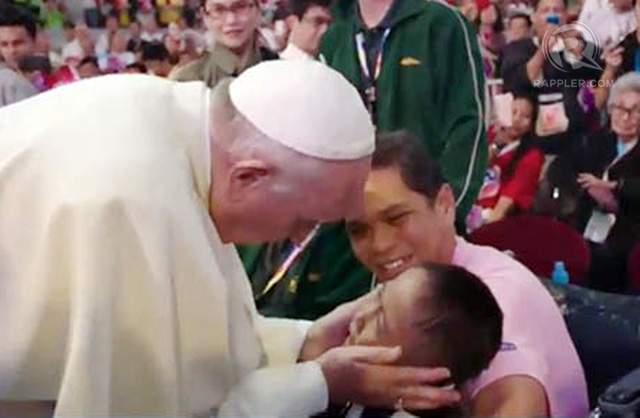 Pope Francis touches a child before the start of the meeting with families at the Mall of Asia Arena, January 16, 2015. Rappler photo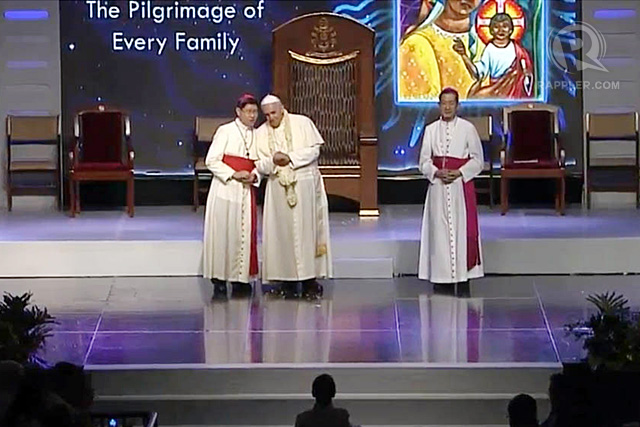 Pope Francis (C) talks to Manila Archbishop Luis Antonio Cardinal Tagle (L) during the meeting with families at the Mall of Asia Arena, January 16, 2015. Rappler photo
– Rappler.com
IN PHOTOS: Pope Francis in the Philippines, day 2